JK Retail POS Software
Korus POS Software is designed to get your staff up and running quickly.
Drag and drop items and categories, customize your items grid, and bring popular items front and center.
JK Retail POS Software
Korus POS Software is designed to get your staff up and running quickly. Drag and drop items and categories, customize your items grid, and bring popular items front and center.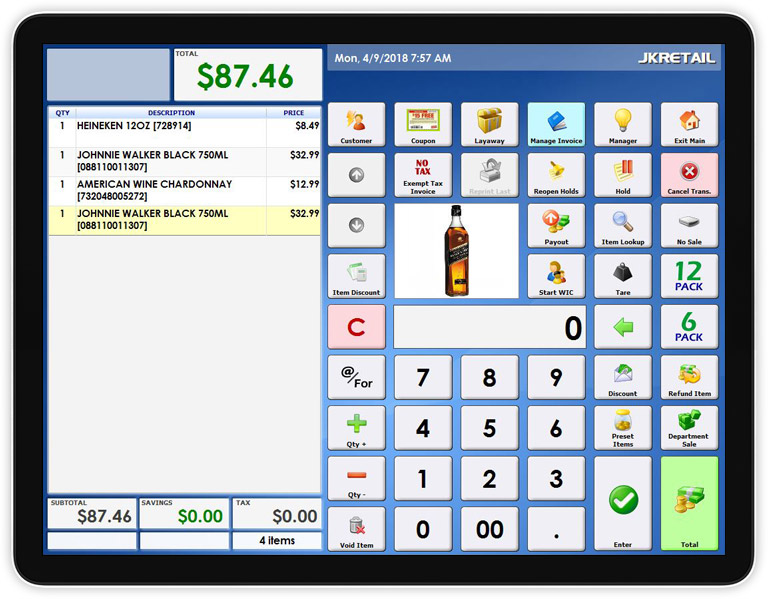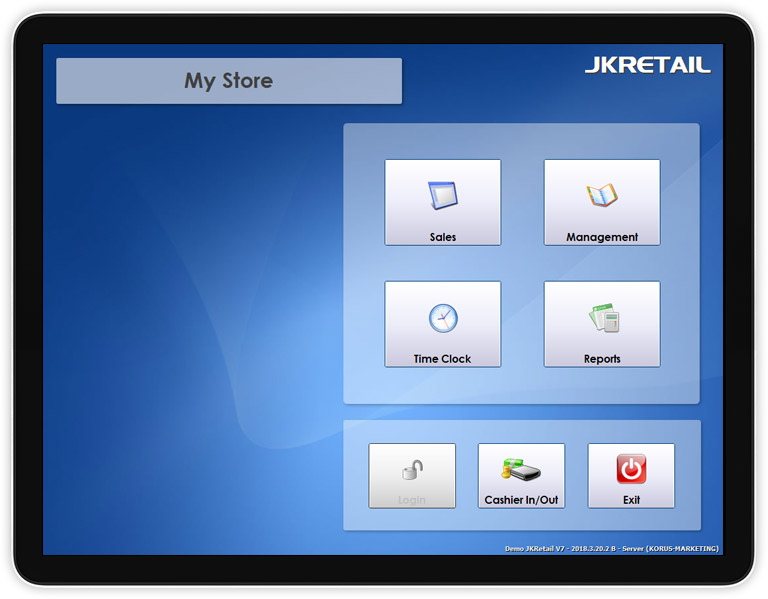 Designed for people with NO computer experience.

100% Touch screen based POS system

Takes less than 30 minutes to learn

Intuitive design prevent user mistakes
JK Retail POS Software Features
Korus has sophisticated service solutions ready to go to work for your business.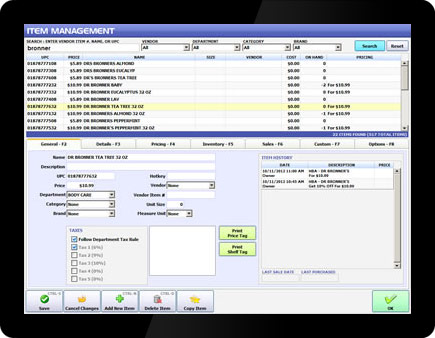 Powerful Inventory Management
Powerful yet easy to use inventory management.

Lookup item info. from internet including item picture.

Quickly search for items based similarity and groups.

On spot price tag & shelf tag printing.

Easy to setup mix & match and tag along items.

Supports virtually infinite variety of promotion types.

Convenient weekly & monthly sales lookup.

Price , promotion , and inventory change history.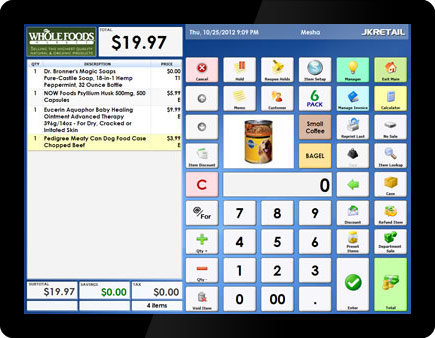 Completely Customizable Sales Screen
Layout buttons anyway you like.

Assign any colors , location , size , and keyboard shortcuts.

Assign frequently sold items as quick buttons.

Beautiful , easy to use interface.

100% touch based but also fully supports keyboard operation.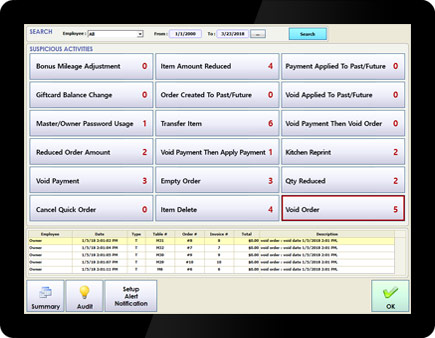 Employee Antitheft
Detects and blocks suspicious employee actions.

Numerous employee privilege levels based on position.

Records every suspicious employee activities.

Powerful , detailed employee audit reports.

Realtime SMS Notification Service for the actions.
Action Log Audit
With powerful and detailed action logs.

Instantly find out "Who", "When", "Where", "What", and "Why".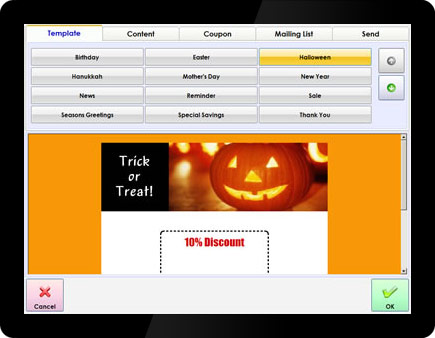 Powerful Marketing
Print coupons, gift certificates, even door hangers.

E-Mail marketing utilizing latest internet technology.

Flexible and intuitive promotion setup

Customizable marketing wizard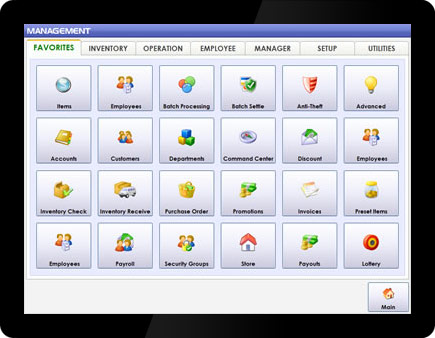 Tons Of Management Features
Inventory management , receive , and checks.

Purchase order generation and procurement.

Batch processing quickly applies changes to multiple items.

Employee setup , security , payouts , payroll , and time clock.

Mange vendors , customers , and account receivable.

Multi-level employee security , theft detection , and prevention.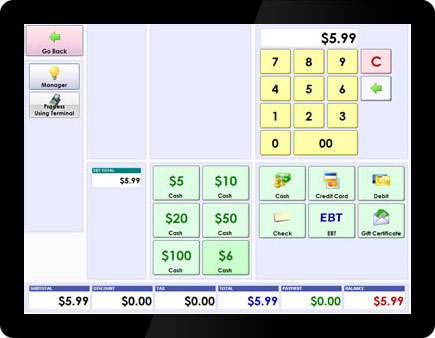 Flexible & Adaptable
Easily adaptable to all types of retails

Adaptable to small retail outlets to nationwide grocery chains.

Powerful and easy to use setup promotion and schedules.

PCI Complianced Verifon PC-Charge credit card processing.

Weight scale , finger print reader , customer display integration.

Sign pad and pin pad integration from multiple vendors.

Supports multiple languages and currencies.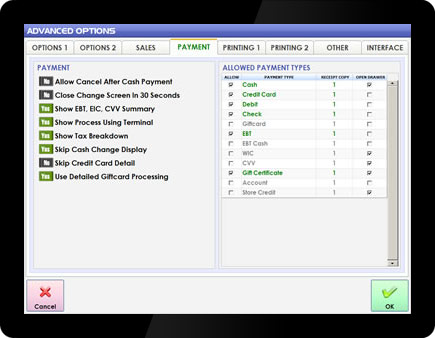 Rock Solid Reliability
One of the most stable computer system in the industry.

Triple Guard System prevents system Failures.

Automatic data backup to three different locations.

Internet database backup/restore capability.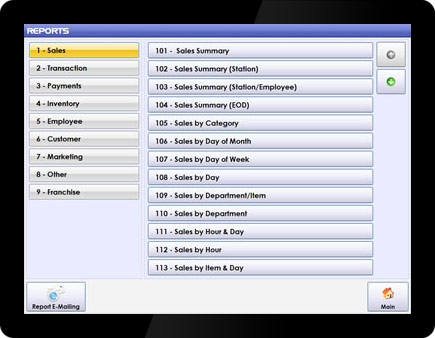 Reports , Reports , Reports
Hundreds of reports in nine categories.

Export reports to PDF , Excel , Quickbooks , or word format.

Print all reports on either laser or invoice printer.

E-Mail reports or even fax reports to you.

Receive reports via email automatically.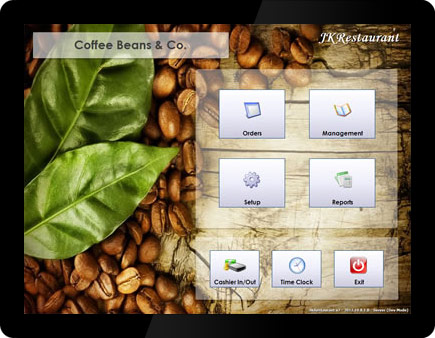 Franchise Ready
Adaptable to single or nationwide franchise.

Central sales data & gift card synchronization.

View reports for all store from the headquarter.

Enterprise edition manages up to 99,999 stores.
Korus Standing by to help you succeed.
Extra features help you do even more

FREE check up software/hardware upgrade
We are happy to inspect and perform maintenance on your system. Not ready to take part with your current hardware? No worries, we will inspect your hardware / software to determine if they are upgradable.

Gift card loyalty programs ready for your business
Built-in gift card and loyalty programs lets you increase your sales and marketing intentional. We also support multi-store gift card and loyalty synchronization solution for franchises also.

Credit Card Processing Integration
Process credit cards right from the system and eliminate human error. Our system accept Apple Pay, Android Pay, Samsung pay, EMV, NFC cards.

Security system for your business
Our security system will surely give you a peace of mind. You can check real time transactions and employee actions without being at the store.